Australian Opal Centre
Author: Brian Date Posted:3 August 2018
---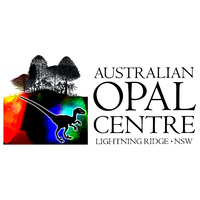 The Australian Opal Centre is an extraordinary national museum being developed in the outback opal mining town of Lightning Ridge, New South Wales to preserve, display and research the greatest ever public collection of Australian opal, opalised fossils and the colourful history and heritage of the Australian opal fields.
The Australian Opal Centre houses the world's leading collection of opalised fossils and is building a magnificent collection of precious opal, cultural artefacts, artworks, photographs, archival and research materials.
The Centre participates and takes a leading role in local and – increasingly – regional or national tourism, heritage, opal and community development projects. It runs public events for residents and visitors, an annual fossil dig, as well as education, learning and cultural programs.
The Australian Opal Centre began in the late 1990s as Lightning Ridge Opal and Fossil Centre. As the project grew, its national significance became evident and, in 2007, it was renamed the Australian Opal Centre.
In 2008, the Centre's refurbished showroom in Lightning Ridge was opened by Her Excellency Professor Marie Bashir, Governor of NSW and acting Governor General of Australia.
The showroom showcases some of the Centre's collection of opalised fossils, provides information about opal and opal mining, displays information about the exciting plans for the future Australian Opal Centre and contains a small shop, from which all proceeds go to the Australian Opal Centre.
To find out more click here to go to the Australian Opal Centre web site.
---
Leave a comment